FREE! – Puppy Books
Click here to download your FREE e-copies of Dr. Ian Dunbar's puppy books: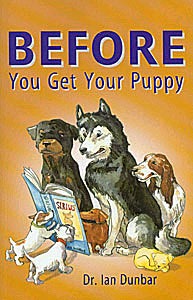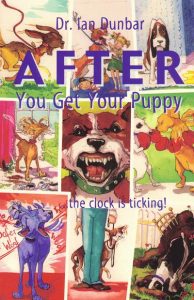 These are classics, and excellent resources for anybody even thinking about getting a puppy – straightforward reads that will help you to prepare before you bring home your puppy.
Send your friends here to get their own copies.
Breeders, this is an easy way to get good information into the hands of your puppy people!
Seminar Listings
How do you find out about great dog training seminars being held in Canada? Check the Mungo's Books Events page to see what's coming our way and to find out where Mungo's Books will be next.
While there are no events on the horizon at the moment, I'll keep you posted when things start up again.
www.canuckdogs.com lists seminars by region. Go to your region, click on Events, then Seminars.
Our Vendor Friends
You know how much I love supporting small and local. And many of you know how much I love my vendor friends:
Four Dog Night Pet Design
Jen Stockford makes quality, durable, machine-washable and -dryable dog beds – kennel mats, donut beds & more – and they look amazing! The Mungo's Books dogs have been lounging all over Four Dog Night beds since I first discovered them in 2005!
www.vagabondventures.ca
Jen and I regularly work together, even if only one of us can attend an event, so you can often find Mungo's Snuffle Mats at Four Dog Night booths and Four Dog Night Beds at Mungo's Books.
Nearly Naked Neckwear
Christine McKain makes beautiful top-quality collars. She does custom work and has an unbelievable selection of materials in a myriad of colours and patterns. The Mungo's Books dogs all wear Nearly Naked!
www.nearlynakedneckwear.com
If you have shopped in one of our big combined booths, you know how much fun we all have together! Come and join us if you get the chance. Shopping should always be this fun!